Directions to the West Chester Chess club
We play at the First Presbyterian Church, 130 West Miner St, West Chester, PA on Thursdays. See this page for details.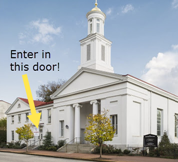 Just walk in the door indicated above. Depending on church activities, we may be downstairs in the basement (it's a great large room) or upstairs on the 2nd floor. We're easy to find!.
The best (and FREE) place to park is just a block or two away at the free (after 5PM) parking garage at
220 Market Street
.
It is a 5 minute walk from the church. However, the parking spots are limited in the garage and we have seen on many occasions that the garage is full. Arrive at least 30 minutes early and waiting for a spot almost always works.
Free parking: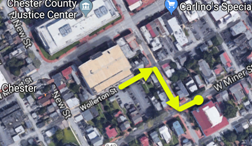 Or park in the metered lot just behind the garage (exit right vs left to get to it). They do have a phone app that lets you add time if you park in the metered lot. Matches can last from an hour to over three hours! In the worst case, find a spot off the main roads and pay the parking meter. If you use a parking meter, you run the risk of a ticket as the meter maids are very likely to ticket you if your meter expires. For more information on other parking garages, visit this page. The garages listed are all within about 10 minutes walking time.